Our Website Uses Cookies
We and the third parties that provide content, functionality, or business services on our website may use cookies to collect information about your browsing activities in order to provide you with more relevant content and promotional materials, on and off the website, and help us understand your interests and improve the website.
For more information, please contact us or consult our Privacy Notice.
Your binder contains too many pages, the maximum is 40.
We are unable to add this page to your binder, please try again later.
This page has been added to your binder.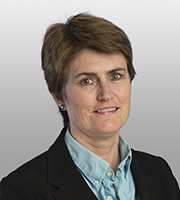 Charlotte Hill is a financial services and regulation partner in the London office. She specialises in advising financial institutions on regulatory and commercial matters.
Ms. Hill has had considerable industry experience during her career, having worked at a predecessor regulator to the FCA in the enforcement division and subsequently, was General Counsel at Threadneedle Investments (now Columbia Threadneedle). This industry experience is invaluable in providing clients with truly commercially focused advice.
Ms. Hill's clients range from very large, multi-national conglomerates to specialist boutiques.
Ms. Hill has been recognised as a Leading Individual by Chambers UK since 2010, who note "her in-depth knowledge of the FSA" and "professional, responsive" approach, as well as the Legal 500 UK.
Ms. Hill regularly publishes articles on regulatory topics in a range of industry publications and speaks at both external conferences and seminars and in-house client training events.
Advising clients on supervisory visits by the regulator. For example, we recently advised a multi-national Plc (a FTSE 100 company) on its FSA ARROW visit, including assistance with documentation, mock interviews, preparation and strategic approach, including dealing effectively with the regulator.
"Shadowing" firms subject to a s.166 review. Providing all levels of support, including preparation for the review; advice on scope of the review; documentation; strategic support; interaction with the regulator. Recent examples include a multi-national investment manager and a household-name financial services company.
Advising on the regulator's Client Money and Assets regime ("CASS"). Advising on dealing with the regulator on CASS issues, including advising on CASS supervisory visits; reviewing the way in which client money is held; reviewing/creating documentation; advice on interpretation; and assisting clients in dealing with the regulator effectively.
Advising on Significant Influence Function ("SIF") applications, including preparing members of senior management for interview by the regulator; training on the requirements; and briefing papers. We also advise regularly on "problematic" SIF applications, including advising on the issues and dealing with the regulator.
Advising on issues relating to the Retail Distribution Review, including advising clients on business model changes and amendments. Advising on Suitability and Appropriateness requirements.
Advising on corporate governance issues. For example, we recently carried out a full review of the corporate governance arrangements of a multi-national asset management firm, providing a lengthy report on the findings, for submission to the regulator.
Advising on all aspects of applying for authorisation by the regulator, including corporate applications and applications for Approved Person status; and Payment Services Regulations applications.
Advising funds platforms. We advised on the set-up of the wrap platform business of a multi-national financial services company, including the drafting of all documentation; advising on legal, regulatory and commercial issues; and dealing with the regulator.
Consumer Credit. We advise firms on consumer credit issues, including applying for a consumer credit licence; assistance with the preparation or review/amendment of documentation; and assistance with issues arising.
Advising the private wealth management division of a major international bank on issues relating to the transfer of client portfolios from London to Geneva and other European countries.
Memberships and Affiliations
Financial Services Lawyers Association
Director of legal for the Threadneedle group.
Enforcement department at IMRO, a predecessor regulator to the FCA.
Euromoney Legal Media Group, shortlisted for Europe Women in Business Law Awards for Financial Regulation (2014-2018)
Women in Compliance Awards, Highly Recommended in the 'Best Regulatory Lawyer' category (2014)
Chambers UK, Financial Services (2010-2015)
Legal 500 UK, Financial Services (2010-2016)
Compliance Register's Annual Compliance Awards, "Best Legal Adviser – Regulatory and Commercial" (2009)