Our Website Uses Cookies
We and the third parties that provide content, functionality, or business services on our website may use cookies to collect information about your browsing activities in order to provide you with more relevant content and promotional materials, on and off the website, and help us understand your interests and improve the website.
For more information, please contact us or consult our Privacy Notice.
Your binder contains too many pages, the maximum is 40.
We are unable to add this page to your binder, please try again later.
This page has been added to your binder.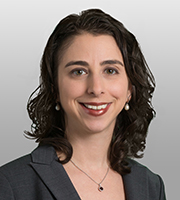 Dena Feldman is a member of the firm's Data Privacy and Cybersecurity and Health Care Practice Groups. She counsels companies from across various industry sectors on a wide range of federal and state privacy laws. Ms. Feldman has particular expertise on health privacy issues arising under the Health Insurance Portability and Accountability Act of 1996 ("HIPAA"), the Health Information Technology for Clinical and Economic Health ("HITECH") Act, and state medical privacy laws.
Ms. Feldman also has experience in Medicare and Medicaid regulations, including the requirements of the Affordable Care Act.
Advised GSK on data privacy matters pertaining to its proposed collaboration with 23andMe for the use of genetic and phenotypic data to engage in various research and development activities.
Counseled major technology companies on compliance with U.S. health privacy laws.
Conducts privacy audits to assess the ways in which organizations collect, handle, and protect personal information.
Assists clients in developing clear privacy disclosures, policies, and terms of use for websites and mobile apps.
Counseled clients on the requirements of the expansion of Medicaid eligibility and other key provisions of the Affordable Care Act.
Advise non-profit reproductive health provider on various privacy and health care compliance matters.
Assist a local non-profit organization in its efforts to ensure that the regional affiliate of a national insurance company fulfills its charitable health care obligation to citizens of the National Capital area.
Advised non-profit advocacy organizations on legislative strategy.
U.S. Senate Committee on the Judiciary, Law Clerk (2010)
Human Rights Campaign, Public Policy Advocate (2005-2008)