Our Website Uses Cookies
We and the third parties that provide content, functionality, or business services on our website may use cookies to collect information about your browsing activities in order to provide you with more relevant content and promotional materials, on and off the website, and help us understand your interests and improve the website.
For more information, please contact us or consult our Privacy Notice.
Your binder contains too many pages, the maximum is 40.
We are unable to add this page to your binder, please try again later.
This page has been added to your binder.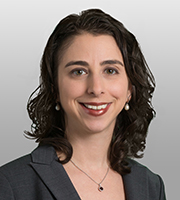 Dena Feldman helps clients from across the health care industry navigate a range of complex regulatory and policy issues.
Ms. Feldman has particular expertise on health privacy issues arising under the Health Insurance Portability and Accountability Act of 1996 ("HIPAA"), the Health Information Technology for Clinical and Economic Health ("HITECH") Act, and state medical privacy laws. Ms. Feldman also regularly counsels clients on the federal rules and policies governing Medicare and Medicaid, including the new mandates of the Affordable Care Act.
Assist clients from across the health care industry on compliance with HIPAA, the HITECH Act, and state medical privacy laws.
Counsel clients on the requirements of the expansion of Medicaid eligibility and other key provisions of the Affordable Care Act.
Prepared comments on the Medicare Physician Fee Schedule rule on behalf of an industry trade association.
Advised a Prescription Drug Plan on the federal requirements under Medicare Part D.
Represented a state agency in appeal of a disallowance involving Medicaid payment for long-term care services in managed care before the U.S. Department of Health and Human Services Departmental Appeals Board.
Assist clients contemplating major acquisitions in the health care sector with regulatory due diligence efforts.
Advise non-profit reproductive health provider on various health care compliance matters.
Assist a local non-profit organization in its efforts to ensure that the regional affiliate of a national insurance company fulfills its charitable health care obligation to citizens of the National Capital area.
Advised non-profit advocacy organizations on legislative strategy.
U.S. Senate Committee on the Judiciary, Law Clerk (2010)
Human Rights Campaign, Public Policy Advocate (2005-2008)