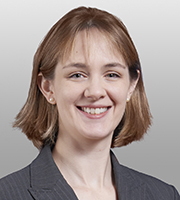 Courtney Forrest is a litigator with broad experience representing a wide variety of clients in high-stakes patent litigation. Ms. Forrest has experience representing clients at all stages of litigation, from case inception through trial. She has appeared in many of the nation's most active patent litigation jurisdictions.
Ms. Forrest focuses her practice on the life sciences and is well-versed in Hatch-Waxman actions. She has a wealth of substantive experience with fact and expert discovery, motions practice, and trials.

Ms. Forrest also maintains an active pro bono practice, with a particular interest in criminal defense.