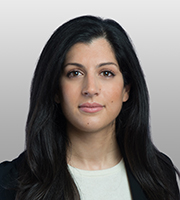 Chloé Bakshi represents clients in a broad range of international, commercial disputes, handling both international arbitration and litigation matters. Ms. Bakshi has experience advising clients in a various sectors, including financial services, oil and gas and insurance. Ms. Bakshi has advised companies and high net worth individuals from a variety of jurisdictions including Russia and other CIS countries, the United States, Switzerland, the British Virgin Islands and Cyprus and many of her matters span multiple jurisdictions.
Ms. Bakshi has particular experience in handling commercial arbitrations under the rules of leading arbitral institutions such as the International Chamber of Commerce (ICC) and the London Court of International Arbitration (LCIA) as well as handling ad hoc arbitrations under the Arbitration Act 1996. She also has experience of making applications to the English High court in support of arbitral proceedings.
Ms. Bakshi has also handled numerous commercial fraud and asset tracing matters and has advised clients under investigation by the Serious Fraud Office (SFO) and Securities and Exchange Commission (SEC).