Your binder contains too many pages, the maximum is 40.
We are unable to add this page to your binder, please try again later.
This page has been added to your binder.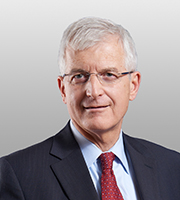 알란 라슨은 비 변호사로서 경제학자이자 전 외교관으로 국제 사업과 공공정책 분야의 교차점에서 고객에 전략 자문, 카운셀링, 법적 대리 서비스를 제공합니다. 그의 업무 분야는미국 현지 외국인 투자위원회(CFIUS) 승인 업무를 중심으로 하는 국제 투자 및 국제 인수 뿐 아니라, 경제 제재 및 무역 규정 준수, 국제 에너지 거래 및 국제 교역 문제로 다양합니다. 알란 라슨은 커빙턴의 전략 파트너인 맥클라티(McLarty) 자문위원회의 일원으로 활동하고 있습니다. 또한, 국제/미국 투명성 기구(Transparency International/USA) 회장, 세계 식량 협회(Bread for the World) 이사로서도 활동하고 있습니다. 이전에는 미국 국무부 경제 담당 차관보 및 OECD 대사로 활약하기도 했습니다. 또, 그는 국무부 최고의 영예의 자리인 명예 대사(Career Ambassador)이기도 합니다.
에너지 부문 대규모의 해외 투자 분쟁 다수 해결.
이란과 리비아 관련 경제 제재 준수 문제와 관련하여 여러 CEO 및 이사회에 자문.
CFIUS 프로세스에서 미국 현지에서 민감한 자산을 성공적으로 인수한 다수의 회사 대변.
남 수단 내 경제 제재 준수와 석유 소유권 분쟁 문제에 대해 여러 회사에 자문.
중국과 인도 내 규정 및 정책 문제 관련 여러 회사에 자문.
파키스탄 대통령과 국무총리 앞에서 한층 강화된 지적재산권 보호를 얻으려는 다수의 회사를 대변.
범죄인 인도와 상호 사법 지원을 포함한 국제 법적 공조 문제 자문.
국제/미국 투명성 기구, 이사회 회장
세계 식량 협회, 이사
맥클라티(McLarty), 자문위원회
양자투자조약 및 기업의 사회적 책임 가이드라인에 관한 오바마 행정부의 민간 부문 자문 패널 공동 의장
국무부, 경제, 기업 및 농업 담당 차관보(1999-2005년)
국무부, 경제 및 기업 담당 차관(1996-1999년)
경제협력개발기구(OECD) 대사(1990-1993년)
국무장관 수여 공로상, 국무부(2005년)
명예 대사, 미 국무부(2004년)
우수 동문 표창, 아이오와 대학교(2003년)