Virginia ("Ginny") Guild Watkin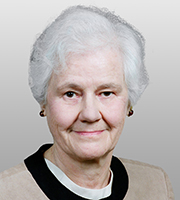 Ginny Watkin's expertise spanned a wide area of the law, including general litigation, antitrust counseling and litigation, employment counseling and litigation, administrative agency proceedings, and insurance litigation. She worked on matters including litigation against manufacturers and vendors of polybutylene water pipes; administrative proceedings before the U.S. Department of Labor involving audits and grants awards under the federal Comprehensive Employment and Training and Job Training Partnership Acts; representing the Puerto Rico Department of Education in response to sanctions imposed by the U.S. Department of Education; and representing the plaintiffs in the famous Texas City Disaster case in their appeal to the Supreme Court.
While heavily engaged in the practice of law, Ms. Watkin's assisted substantially in the administration of the firm. She served as chair of the Administrative Committee for a prolonged period of time and managed the Trial Advisory Training Program for several years. She also was a charter member of the committee dealing with lawyers who wished to work part-time.