Your binder contains too many pages, the maximum is 40.
We are unable to add this page to your binder, please try again later.
This page has been added to your binder.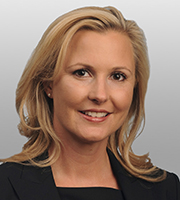 Natalie Walter (née Diep) focuses on capital market transactions, including IPO's and equity offerings on the Main and AIM markets of the LSE, as well as other international markets. Mrs Walter also advises on corporate governance, private placements, mergers and acquisitions and general corporate finance matters. She advises both corporate issuers and financial institutions covering a range of industries with particular expertise in advising on deals in the life sciences and technology industries.
Amongst other honours, Mrs Walter is recognised by Legal 500 UK, Flotations, Small and Mid-Cap (2011-2014); Legal 500 UK, Equity Capital Markets (2012) and PLC Which Lawyer?, Life Sciences - Corporate, England (2012).
Corporate
Axis-Shield plc, listed on the London and Oslo Stock Exchange's, on the £235 million all cash public takeover offer from Alere, Inc., a US company listed on the New York Stock Exchange.
Horizon Discovery Group plc on its admission to the AIM market of the London Stock Exchange, raising approximately £40 million before expenses for Horizon and a further £28.6 million for selling shareholders.
Intradigm Corporation, a US private company, on its merger with AIM-quoted Silence Therapeutics plc and related £15 million fundraising.
Lombard Medical, Inc. on its $55 million U.S. initial public offering and the listing of the company's ordinary shares on the NASDAQ Global Market.
Oxford BioMedica plc, a bio-pharmaceutical company listed on the London Main Market:

on a firm placing, subscription, related party subscription and open offer to raise up to £23.7 million;
on a £5 million Loan Facility from its lead shareholder, Vulpes Life Sciences Fund; and
on a firm placing and open offer to raise up to £16 million.
Rightster Group plc, a global online video distribution and monetisation network:

on its acquisition of Base 79 Limited, acquisition of Viral Management Limited and associated fundraise of approx £42 million; and
on its admission to AIM and associated fundraise of approx £20 million.

Silence Therapeutics plc, an AIM-quoted gene therapy company:

on a placing to raise up to £11.4 million by means of accelerated book build;
on a subscription, convertible loan and open offer to raise up to £5.7 million together with a £10 million equity finance facility.

The Hut Group, a multi-category, multi-website specialist on-line retailer and brand owner, on the acquisition of Probikekit.com and related equity fundraise.
Vectura Group Plc, a product development company listed on the London Main Market, on its acquisition of German pharmaceutical company Activaero GmbH for a total consideration of €130 million (£108 million) and related £52 million fundraising.
Vernalis plc, a development stage pharmaceutical company, on a firm placing and open offer to raise approx £70 million and move from the Main Market to AIM.
Financial Institutions
Canaccord Genuity Limited:
Cenkos Securities plc,:

as sole co-ordinator and bookrunner, to the AA Group on its £1,385 billion IPO on the London Main Market; and
as NOMAD, broker and bookrunner to FAIRFX Group plc on its £2.6 million IPO on AIM.

Charles Stanley Securities, as NOMAD, and WG Partners as financial adviser and broker to Venture Life Group plc, on its admission to AIM.
Liberum Capital Limited, as NOMAD and broker to US registered, AIM-quoted, Halosource, Inc. on its £16 million placing.
Piper Jaffray Limited, financial adviser, sponsor and broker to Cathay International Holdings Limited, listed on the London Main Market, on a placing and open offer to raise approx £27 million and the subsequent disposal of a subsidiary by means of an IPO on the Hong Kong Stock Exchange.
WH Ireland:
Euromoney Legal Media Group, European Women in Business Law Awards - Winner for Capital Markets: Equity (2016, 2017)
LMG Life Sciences Europe, Life Sciences Star - Financial & Transactional (United Kingdom) (2014-2015)
Euromoney Legal Media Group, shortlisted for Europe Women in Business Law Awards for Capital Markets, Equity (2011-2013)
Euromoney's Guide to the World's Leading Women in Business Law, Capital Markets (2013)
PLC Which Lawyer?, Life Sciences - Corporate, England (2012)
Legal 500 UK, Equity Capital Markets (2015)
Legal 500 UK, Flotations, Small and Mid-Cap (2011-2014)
Legal 500 UK, Pharmaceuticals and Biotechnology (2011)