Our Website Uses Cookies
We and the third parties that provide content, functionality, or business services on our website may use cookies to collect information about your browsing activities in order to provide you with more relevant content and promotional materials, on and off the website, and help us understand your interests and improve the website.
For more information, please contact us or consult our Privacy Notice.
Your binder contains too many pages, the maximum is 40.
We are unable to add this page to your binder, please try again later.
This page has been added to your binder.
Kristian E. Wiggert
Partner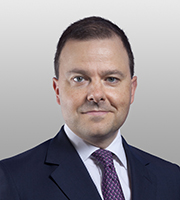 Kristian Wiggert advises companies, financial institutions and investment funds in Europe and the US on complex cross-border transactions. Having practiced in London since 2000, he understands the commercial issues clients face when they operate internationally. According to Chambers UK (2014-2015) he is "very knowledgeable" and has "an eye for the legal as well as the commercial side of a transaction." He is "good at handling novel problems quickly and efficiently and tailoring his advice to the needs of individual clients."
Mr. Wiggert's practice covers a wide range of industries, with particular expertise in the life sciences, media and technology and energy sectors.
Mr. Wiggert represents companies, financial advisors and investors in public and private debt and equity financings (including Rule 144A, Regulation S and SEC-registered offerings), and has a particular expertise in royalty monetizations. He works with both US and European entities in cross-border M&A transactions. He also counsels investment funds with respect to transactions, fundraising and compliance with US securities and capital markets regulations.
Advised Cantor Fitzgerald Europe and RBC Capital Markets as joint bookrunners on the £15 million follow-on financing structured as a placing by UK-based biopharmaceutical company, Mereo BioPharma Group plc.
Advised Pharming Group N.V., a Dutch publicly-traded pharmaceutical company ("Pharming"), on a new $100 million secured debt facility with OrbiMed Advisors, LLC ("OrbiMed").
Advised Wilmcote Holdings plc on its admission to AIM and £15 million placing of ordinary shares.
Advised Vernalis plc on its acquisition of the US rights to MOXATAG® (amoxicillin extended-release tablets) from Pragma Pharmaceuticals, LLC.
Advised Horizon Discovery Group plc, an AIM listed international life science company supplying research tools and services to organizations engaged in genomics research and the development of personalized medicines, on:
Advised Lombard Medical, Inc., a Nasdaq-listed medical device company, on:
Advised Oxford BioMedica plc, a Main Market listed gene based biopharmaceutical company, on:

a $55 million secured debt facility with Oaktree Capital Management - Strategic Credit Strategy.
a follow-on financing to raise gross proceeds of £11.5 million by way of a placing and subscription of new ordinary shares;
a follow-on financing to raise £8.1 million pursuant to a placing of new ordinary shares with both new and existing investors; and
a $50 million secured loan facility from a subsidiary of Oberland Capital Healthcare.

Advised Ergomed plc, an international clinical research business, on its flotation on the AIM market of the London Stock Exchange, an associated fundraising and its simultaneous acquisition of PrimeVigilance Limited, a leading provider of pharmacovigilance and medical information services.
Advised Cenkos Securities plc as sole co-ordinator and bookrunner in relation to AA's IPO on the London Main Market.
Advised CarCor Investment Holdings LLC in an offering of 1,500,000 common shares of Cardiome Pharma Corp. owned by CarCor and 1,500,000 common shares from treasury of Cardiome, each at a price of Canadian $10.00 per common share, for a combined offering of Canadian $30 million.
Advised Correvio LLC, a Switzerland-based pharmaceutical company, in its sale to Cardiome Pharma Corp., a Toronto Stock Exchange and NASDAQ listed company, in return for 17% of the outstanding Cardiome common shares post-transaction and deferred cash payments.
Advised Governance for Owners (GO) in the formation of a new, global partnership with Engaged Capital (EC) in the activist investing arena.
Advising Tom Tailor AG, on:

U.S. securities law aspects of its €29.5 million secondary offering; and
the U.S. aspects of its €143 million initial public offering.

Advising Canaccord Genuity Limited as nominated adviser and joint broker to AIM-quoted Lombard Medical Technologies plc on a £22 million placing of ordinary shares.
Advising The Hut Group, a multi-category, multi-website specialist on-line retailer and brand owner on:
Advising IMS Consulting Group Limited, a UK-based company providing compliance consulting services to the investment management industry, in connection with the acquisition of HedgeOp Compliance LLC, a US-based business in the same industry, for a combination of cash and debt.
Acting for Piper Jaffray in a fundraising for Evolva Holding SA totalling CHF 31.3 million (approximately $33 million).
Acting for Liberum Capital in:

the £16 million placing on AIM for HaloSource, Inc., a U.S.-based global clean water technology company; and
the $80 million initial public offering and AIM listing of HaloSource, Inc., a clean water and antimicrobial technology company.

Advising Autodesk, Inc., a leader in 3D design, engineering and entertainment software, in its acquisition of Micro Application Packages Limited (MAP Software), a UK-based provider of CAD, CAM and estimating software.
Advising Sirius Minerals plc on the U.S. aspects of its £20 million and £55 million placings.
Advising Paul Capital Healthcare on an investment to provide more than $100 million to fund and manage late-phase clinical trials for a major global pharmaceutical company, and a follow-on investment in certain royalty interests.
Advising hedge funds including Cheyne Capital, Lionhart and Sofaer Capital in connection with a restructuring and asset recovery from Terra Nostra Resources Corp., a US entity with assets in the PRC.
Advising Cube Infrastructure Fund on its formation, fundraising and investments.
Advising Catalyst Communities Housing Association in its cross-border private placement of £75,000,000 senior secured notes.
Advising Metropolitan Housing Trust in its cross-border private placement of £30,000,000 senior secured notes.
Advising Places for People Homes Limited in its cross-border private placements of $200,000,000 senior secured notes and $75,000,000 senior unsecured notes.
Advising Advent Ventures and other shareholders in the sale of The Foundry Visionmongers Ltd, a maker of special effects software, to The Carlyle Group.
Advising Autodesk, Inc. on the acquisition of Dynamite VSP and Dynamite SIM visualization software products and related assets from 3AM Solutions, a UK-based company that develops visualization software for civil infrastructure.
Advising Piper Jaffray and WestLB AG as joint global coordinators of a €76 million follow-on offering by Agennix AG.
Advising Westhouse Securities and Liberum Capital on the US aspects of a £51.6 million placing and open offer of Chaarat Gold Holdings Limited.
Advising Horizon Acquisition Company plc on the US aspects of its £418 million initial public offering on the UK Official List.
Memberships and Affiliations
Chambers UK, Corporate/M&A: Mid-Market (2012-2015)
Legal 500 UK, Flotations: Small and Mid-Cap (2014, 2016)
Legal 500 UK, Equity Capital Markets (2013, 2016)
Legal 500 UK, M&A - Premium Deals (2012-2014)
Legal 500 UK, Pharmaceuticals & Biotechnology (2012)
Education
Harvard Law School, J.D., 1993
Columbia University, B.A., 1990
magna cum laude
Phi Beta Kappa