Your binder contains too many pages, the maximum is 40.
We are unable to add this page to your binder, please try again later.
This page has been added to your binder.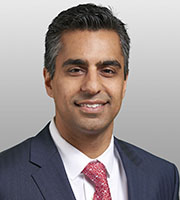 Anuj Vohra is special counsel in the firm's Government Contracts practice. He advises clients in a range of contracting issues during all stages of the procurement process and regularly litigates such matters, including bid protests, before federal agencies, the U.S. Government Accountability Office, and the U.S. Court of Federal Claims. His practice also includes compliance counseling, internal investigations, claim preparation and disputes, and contractor representation before agency suspension and debarment officials.
Prior to joining the firm, Mr. Vohra was a Trial Attorney in the Department of Justice's Commercial Litigation Branch, where he was a member of the bid protest team. At the Department of Justice, he served as lead counsel in dozens of matters representing the United States in complex commercial disputes before the U.S. Court of Appeals for the Federal Circuit, the U.S. Court of International Trade, and the Court of Federal Claims.
Successfully defended award to State Department contractor of embassy "life support services" contract valued at up to $1 billion in multiple consolidated GAO bid protests and related Court of Federal Claims litigation.
Represent energy company in Court of Federal Claims litigation in dispute over monies owed by U.S. Department of Treasury under American Recovery and Reinvestment Act.
Provided compliance counseling to Department of Defense contractor regarding Federal Acquisition Regulation mandatory disclosure obligations; prepared formal disclosure statement.
Represented Department of Defense contractor in suspension and debarment proceedings related to government contract compliance investigation; obtained determination of contractor's "present responsibility" by relevant agency Suspension and Debarment Official.
Provided government contract compliance and performance advice to Fortune 500 company.
While at the Department of Justice, Mr. Vohra served as lead counsel on behalf of the United States in the following matters:
Successful defense of Department of Veterans Affairs' award of $12 billion, multi-award task-order contracts for IT support services in Court of Federal Claims bid protest.
Harris Patriot Healthcare Solutions, LLC v. United States, 95 Fed. Cl. 585 (2010)—dismissing as moot bid protest challenging Department of Interior's override of Competition in Contracting Act's automatic stay of proceedings during pendency of GAO protest.
Biltmore Forest Broadcasting, Inc. v. United States, 555 F.3d 1375 (Fed. Cir. 2009)—affirming trial court dismissal of challenge to award of broadcasting license by U.S. Federal Communications Commission.
Lumetra v. United States, 84 Fed. Cl. 542 (2008)—denying bid protest challenging Department of Health and Human Services award of $30 million contract for Medicare-related quality control services.
Four-day, $77 million damages trial defending U.S. Department of Energy in breach of contract action brought by major energy company arising from sale of Government's interest in jointly-owned oil-and-gas reserve.
Assist non-profit think tank in preparation of report regarding right to counsel for indigent criminal defendants during plea negotiation process.
Represented indigent defendant charged with multiple counts of second-degree assault in Prince George's County Circuit Court; negotiated favorable plea for client.
Memberships and Affiliations
Board of Governors, U.S. Court of Federal Claims Bar Association
American Bar Association, Section of Public Contract Law
South Asian Bar Association
U.S Department of Justice, Trial Attorney, Commercial Litigation Branch
City of Chicago Department of Law, Assistant Corporation Counsel, Constitutional & Commercial Litigation Division