Your binder contains too many pages, the maximum is 40.
We are unable to add this page to your binder, please try again later.
This page has been added to your binder.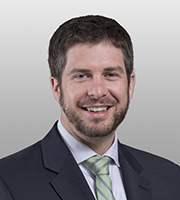 John Sorrenti advises clients across a broad range of complex government contracts law matters.
Mr. Sorrenti has experience representing contractors at all stages of litigation involving contract claims against the United States under the Contract Disputes Act. He also has litigated a number of bid protests at the Court of Federal Claims, the Government Accountability Office, and at the state and local level, and successfully represented contractors in size protests before the Small Business Administration Area Offices and the Office of Hearings and Appeals.
Mr. Sorrenti also has counseled clients regarding complex organizational conflicts of interest issues and assisted with crafting mitigation measures for proposal preparation. In addition, Mr. Sorrenti has represented several clients in suspension and debarment matters and drafted comprehensive responses to notices of proposed debarment.
Represents major government contractor in mediation regarding a contract dispute with subcontractor.
Assisted with representation of leading defense contractor in claims proceedings before the Armed Services Board of Contract Appeals that led to $55 million decision in contractor's favor.
Counseled major healthcare client regarding organizational conflicts of interest and drafting mitigation measures for proposal submissions to federal agencies.
Represented several clients in response to notices of proposed debarment from a variety of federal agencies.
Assisted with representation of leading defense contractor assert claim under Federal Tort Claims Act.
Successfully represented client in appeal of security clearance application decision.
Represents tenants' association opposing hardship petition.
Drafted brief for amicus curiae in appeal to the Fifth Circuit regarding federal gun regulations governing out-of-state firearm purchases.
Represented clients in protective order petitions before the D.C. Superior Court and Virginia Juvenile and Domestic Relations Court
Represented applicants for unemployment insurance before the D.C. Court of Appeals and the Office of Administrative Hearings.
Memberships and Affiliations
American Bar Association, Section of Public Contract Law, Contract Claims and Disputes Resolution Committee, Vice-Chair
George Washington University Law School Alumni Association, Board Member
Capital Pro Bono High Roller Honor Roll (2013)
Education
The George Washington University, J.D., 2010
Student Bar Association, President
Thurgood Marshall Scholar
Public Contract Law Journal, Member
Stanford University, B.A., 2002