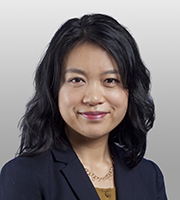 Joanne Sum-Ping counsels a variety of clients in high-stakes insurance coverage and environmental liability disputes. She has also litigated intellectual property, securities, and criminal matters, and has advised clients in the areas of public policy and government relations.
Ms. Sum-Ping's broad experience enables her to view situations from multiple perspectives and develop creative and customized strategies for clients. She distills complex factual and legal issues into straightforward, persuasive points that are easily grasped by judges, juries, and other decision makers. This ability has allowed Ms. Sum-Ping to successfully litigate cases from case inception through pleadings, discovery, and trial.
Currently based in San Francisco, Ms. Sum-Ping has previously been based in Covington's Beijing and New York offices.