Our Website Uses Cookies
We and the third parties that provide content, functionality, or business services on our website may use cookies to collect information about your browsing activities in order to provide you with more relevant content and promotional materials, on and off the website, and help us understand your interests and improve the website.
For more information, please contact us or consult our Privacy Notice.
Your binder contains too many pages, the maximum is 40.
We are unable to add this page to your binder, please try again later.
This page has been added to your binder.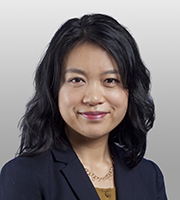 Joanne Sum-Ping counsels clients in high-stakes insurance coverage and other commercial disputes. Her broad experience enables her to view situations from multiple perspectives and develop creative and customized strategies for her clients.
Ms. Sum-Ping distills complex factual and legal issues into straightforward, persuasive points that are easily grasped by judges, juries, and other decision makers. This ability has allowed her to successfully litigate cases from case inception through pleadings, discovery, and trial.
Currently based in San Francisco, Ms. Sum-Ping has previously been based in Covington's Beijing and New York offices.
Represent financial services companies in obtaining D&O coverage for securities claims.
Represent oil and gas company in obtaining coverage for products liability losses.
Represent sports product manufacturer in obtaining coverage for products liability losses.
Represented major chemical company in arbitration resulting in an award of coverage for property losses resulting from explosion and fire at chemical manufacturing plant.
Represent leading government contractor in dispute with government regarding liability for clean-up of contaminated site.
Represent Samsung in copyright dispute relating to software embedded in printers.
Represented subsidiaries of the Brunei Investment Agency in six-week jury trial in New York state court involving claims of fraud and breach of fiduciary duty.
Obtained favorable settlement for individual in New York state and federal actions to enforce multi-million dollar promissory note.
Successfully defended software company in FINRA and SEC investigation into trading practices, resulting in the government declining to pursue the investigation.
Advised leading international software company on anti-piracy campaign in China.
Advised leading international software trade association on copyright litigation in China.
Represented large multinational corporation in internal investigation into potential FCPA violations in China.
Represented large multinational corporation in internal investigation into potential violations of U.S. export controls relating to China.
Represented large pharmaceutical company in internal investigation into employee's allegations of improper accounting practices.
Represented leading health insurance corporation in stock options investigation by the Securities and Exchange Commission and the Department of Justice.
Successfully represented individual facing potential conspiracy charges by the U.S. Attorney's Office for the Eastern District of New York related to manufacture of components of military equipment, resulting in the government declining to pursue the case.
Successfully argued summary judgment motion on APA claims in federal district court on behalf of individual whose passport was wrongfully revoked.
As solo trial counsel, secured not guilty jury verdict for indigent criminal defendant in California state court.
Argued before the Second Circuit on behalf of prisoner challenging New York parole policy as unconstitutional.
Helped obtain favorable settlement for post-9/11 detainees pursuing constitutional claims that they were unlawfully detained and subjected to abusive conditions.
Obtained T Visa for young woman illegally trafficked from Philippines to United States.
Lead trial counsel in removal proceedings before Immigration Court on behalf of asylum applicant from Uzbekistan.
Negotiated favorable plea bargain on behalf of indigent misdemeanor defendant.
U.S. Peace Corps, China, Environmental Education Volunteer (2001-2003)