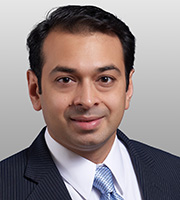 Saurabh Prabhakar is a litigator who represents various clients in high-stakes patent litigation and antitrust litigation and investigations.
Mr. Prabhakar has experience representing clients in high-stakes and high-speed patent litigation matters before the U.S. International Trade Commission. He has also represented clients in Department of Justice criminal antitrust investigations. Mr. Prabhakar utilizes his extensive experience of managing cross-geographic teams for multinational companies and his engineering skills in developing successful legal strategies for his clients. Mr. Prabhakar also assists Indian companies that are looking for legal advice in the United States.
Prior to attending law school, Mr. Prabhakar held various technical and managerial positions in the electronic design automation industry. As a software programmer he developed innovative products for designing and verifying VLSI chips at both System and Register Transfer Level.
Mr. Prabhakar also maintains an active pro bono practice, representing low-income District of Columbia tenants in landlord-tenant disputes.