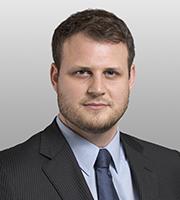 Luke Meier is special counsel in the firm's Government Contracts Practice Group. He represents and advises clients in all aspects of government contract law, and has experience with a wide variety of matters including contract disputes and claims, bid protests, domestic sourcing requirements, ethics policies and training, internal investigations, and fraud disclosures.
Mr. Meier's litigation experience includes complex commercial disputes in federal courts and numerous bid protest actions before the Government Accountability Office and United States Court of Federal Claims covering a wide range of procurements, such as:
aerospace and defense (including a $500M helicopter services contract);
biotechnology (including a $500M biodefense contract);
healthcare (including a $23B TRICARE contract); and
information technology (including a $600M cloud services contract).
Mr. Meier has managed several internal investigations of criminal and civil fraud allegations, and has assisted clients with rebuttal presentations to Government investigators and voluntary and mandatory disclosures to federal agencies. He has counseled clients in several areas of regulatory compliance including the Buy American and Trade Agreements Acts, GSA schedule contracting, and ethics and internal controls requirements.
Prior to law school, Mr. Meier worked for a major defense contractor as an on-site consultant at the Department of Homeland Security's Office for Domestic Preparedness.