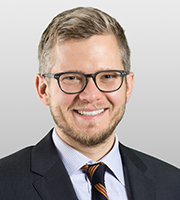 Christopher Miller represents clients across a broad range of industries in complex regulatory and white collar investigations. He also represents clients in high-stakes complex civil litigation. Mr. Miller's diverse client base has included global pharmaceutical manufacturers, software companies, commercial real estate developers, financial institutions, and executives of Fortune 500 companies.
Mr. Miller has helped clients conduct internal investigations amid high-profile allegations and reporting by the media, and has represented companies under investigation by the DOJ, the SEC, FINRA, and various foreign prosecutors and regulators. He has handled a broad range of matters involving issues of insider trading, suspicious activity reporting, alleged illegal banking, money laundering, securities fraud, accounting practices, whistleblower complaints, and manufacturing and sales practices, among others.

Mr. Miller's litigation experience includes defending clients in both federal and state court against allegations of fraud, price-fixing, false advertising, and violations of the Lanham Act, Racketeer Influenced and Corrupt Organizations (RICO) Act, and state consumer protection statutes.