Your binder contains too many pages, the maximum is 40.
We are unable to add this page to your binder, please try again later.
This page has been added to your binder.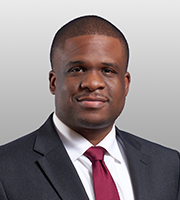 Brandon Myers represents clients in a broad array of high-stakes litigation matters, with particular emphases on advertising disputes, product liability and consumer protection actions.
He also counsels and represents clients in a wide range of employment law matters, in addition to maintaining an active pro bono practice.
Negotiated consent orders with the FTC (e.g., Lumos Labs (2016, individual defendants)).
Defended major consumer products company in product liability lawsuits in federal and state court.
Advised employers in their development and revision of personnel policies.
Counseling and representing employers in matters involving discrimination, retaliation, and wrongful termination claims made under federal and state law.
Representing a transportation service provider in connection with a U.S. anti-trust investigation.
Advised a professional sports team in the development of its employee handbook and personnel policies.
Advised a nonprofit entity in its development of personnel policies in compliance with the Fair Labor Standards Act.
Representing clients in government contracts disputes.
U.S. Senate Judiciary Committee, Law Clerk (2012)