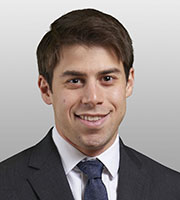 Philip Levitz is a litigator with extensive and diverse trial and appellate experience in state and federal courts, including the U.S. Supreme Court. He has successfully briefed and argued numerous high-stakes issues on appeal and represents both plaintiffs and defendants at all stages of the trial process. His substantive focuses have included complex insurance coverage matters and matters involving administrative law and statutory and constitutional issues.
In his insurance practice, Mr. Levitz has experience representing policyholders in claims under general liability, auto, property, business interruption, pollution, and other policies and insurance bad faith claims that have resulted in recovery of tens of millions of dollars for his clients.
Mr. Levitz's other litigation experience has included breach of contract, business tort, qui tam, RICO, antitrust, trade secrets, and sovereign immunity claims. Mr. Levitz also has advised clients on anti-corruption compliance and has conducted anti-corruption risk assessments and due diligence, developed anti-corruption compliance programs, and assisted clients with internal, DOJ, and SEC investigations.