Our Website Uses Cookies
We and the third parties that provide content, functionality, or business services on our website may use cookies to collect information about your browsing activities in order to provide you with more relevant content and promotional materials, on and off the website, and help us understand your interests and improve the website.
For more information, please contact us or consult our Privacy Notice.
Your binder contains too many pages, the maximum is 40.
We are unable to add this page to your binder, please try again later.
This page has been added to your binder.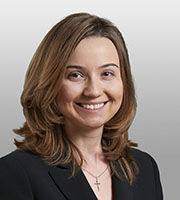 Kamila Lis-Coghlan focuses her practice on environmental and occupational safety issues. She has experience advising domestic and international clients on complex policy, regulatory, and transactional matters, including under the OSH Act, Administrative Procedure Act, Clean Air Act, Clean Water Act, Endangered Species Act, CERCLA, NEPA, and RCRA.
Advised clients on OSHA rulemakings, including by developing strategies to reduce regulatory delays holding up a product launch.
Advised pharmaceutical manufacturers and developers regarding acquisitions and sales of manufacturing facilities.
Advised clients in the food, drug, and cosmetics industries regarding chemical labeling and Safety Data Sheet requirements.
Advised manufacturers on the workplace safety implications of novel medical waste management devices.
Represented multinational oil company in insurance coverage litigation arising from alleged workplace asbestos exposures.
Represented citizens seeking to compel an animal shelter to follow laws regarding the humane treatment of animals.