Our Website Uses Cookies
We and the third parties that provide content, functionality, or business services on our website may use cookies to collect information about your browsing activities in order to provide you with more relevant content and promotional materials, on and off the website, and help us understand your interests and improve the website.
For more information, please contact us or consult our Privacy Notice.
Your binder contains too many pages, the maximum is 40.
We are unable to add this page to your binder, please try again later.
This page has been added to your binder.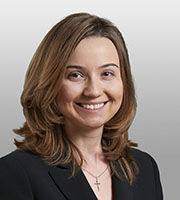 Kamila Lis-Coghlan is a litigator who focuses on environmental, occupational safety, and administrative law matters. She has advised domestic and international clients on a variety of issues related to the Clean Air Act, Clean Water Act, CERCLA, NEPA, and OSHA.
Representing citizens who are seeking to compel an animal shelter to follow laws regarding the humane treatment of animals.