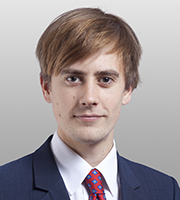 Oliver Grazebrook advises clients on a variety of international disputes, handling both international arbitration and English litigation matters. Mr. Grazebrook has experience representing clients in a number of industries, including energy (both renewable and oil & gas), life sciences and defence.
Mr. Grazebrook has advised clients in both commercial and investment treaty arbitration matters under the rules of many of the leading arbitral institutions, including the London Court of International Arbitration (LCIA), the International Chamber of Commerce (ICC), the International Centre for Dispute Resolution (ICDR), the Hong Kong International Arbitration Centre (HKIAC), and the International Centre for Settlement of Investment Disputes (ICSID). He has experience at all stages of disputes from providing initial advice on the merits of a case to assisting in final hearings.
Mr. Grazebrook has worked on a number of English High Court matters, which have included navigating complex cross-border issues and applying for interim relief. His litigation practice has a particular focus on antitrust damages claims.