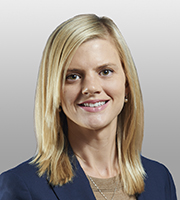 Megan Gerking represents clients in civil and criminal antitrust government investigations, and complex commercial litigation and antitrust disputes. Ms. Gerking advises clients on a variety of competition issues, including acquisitions and regulatory compliance under the Hart-Scott-Rodino Act.

From 2012-2014, Ms. Gerking was a trial attorney for the U.S. Department of Justice's Antitrust Division, where she prosecuted criminal violations of the federal antitrust laws, including international cartel cases and related offenses. Ms. Gerking prosecuted the first individual to ever be formally extradited to the United States on an antitrust charge. Ms. Gerking was also a member of the prosecution team investigating price fixing, bid rigging, and market allocation in the automotive parts industry and she negotiated numerous plea agreements with corporate entities and individuals.
Prior to attending law school, Ms. Gerking worked in the U.S. Department of Justice's Office of Public Affairs, where she assisted the Assistant Attorney General of the Antitrust Division in all media matters and served as a DOJ spokesperson with national and local media.