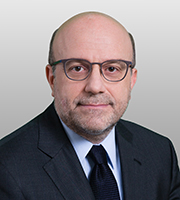 Francesco De Prospero advises public and private companies, investors, private equity firms, institutions and non-profits concerning a variety of transactions involving corporate and intellectual property matters, including mergers and acquisitions, technology transfers, collaborations, joint ventures, supply arrangements, data privacy (under U.S. and European law) and data breaches, FCPA compliance and shareholder activism.
In his pro bono practice, Mr. De Prospero has handled matters ranging from asylum cases to the representation of numerous not-for-profit organizations supporting the arts, social services and environment protection efforts.
While in law school, Mr. De Prospero was a judicial intern to Justice Jack Jacobs of the Delaware Supreme Court and to Judge Michael Baylson of the Eastern District of Pennsylvania. Before receiving his first law degree in Europe, he was an infantry lieutenant in the Italian Army and received his basic training in the Alpini, the Italian mountain troops.