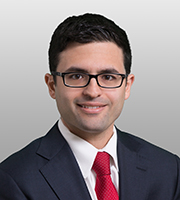 Mr. Corey is a corporate associate in the firm's Washington, DC office. His practice covers a broad range of corporate and transactional matters, including mergers and acquisitions and capital markets transactions.
Prior to joining Covington, Mr. Corey was a corporate associate at an international law firm in New York City.
Mr. Corey is a member of the Bar of New York. District of Columbia bar application is pending; supervised by principals of the firm.