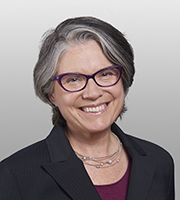 Caroline Brown's practice focuses on government-sponsored health care programs -- including Medicaid, Medicare, CHIP, and the Affordable Care Act -- with a special emphasis on how the different programs interrelate. Resident in our Washington office, Ms. Brown is co-chair of the firm's Health Care Industry Group, and chair of the Federal-State Programs practice.
Ms. Brown helps her clients navigate and comply with regulatory and statutory provisions that courts have described as "among the most completely impenetrable texts within human experience."
With over 20 years' experience in the field, the key to Ms. Brown's success is understanding how those provisions are interpreted and applied by the Centers for Medicare & Medicaid Services (CMS) through subregulatory guidance and uncodified policies and procedures. In light of that experience, Ms. Brown is regularly called upon to counsel clients regarding Section 1115 demonstration projects, Medicaid upper payment limits (UPL), Medicare and Medicaid disproportionate share hospital (DSH) payments, certified public expenditures (CPE), graduate medical education (GME), Medicaid managed care, payment for home and community-based services, dual eligibles, and provider taxes, among other issues that arise in these complex government programs.
Ms. Brown also frequently litigates issues related to government health care programs in federal court and in administrative appeals within the U.S. Department of Health and Human Services before the Departmental Appeals Board (DAB) and the Provider Reimbursement Review Board (PRRB). She is a member of the U.S. District Courts for the District of Columbia, the Western District of Michigan, and the Eastern, Southern, and Western Districts of New York; as well as the U.S. Court of Appeals for the First, Second, Third, Fifth, Seventh, Eighth, Ninth, Eleventh, D.C. and Federal Circuits, and the U.S. Supreme Court.