Our Website Uses Cookies
We and the third parties that provide content, functionality, or business services on our website may use cookies to collect information about your browsing activities in order to provide you with more relevant content and promotional materials, on and off the website, and help us understand your interests and improve the website.
For more information, please contact us or consult our Privacy Notice.
Your binder contains too many pages, the maximum is 40.
We are unable to add this page to your binder, please try again later.
This page has been added to your binder.
#CovLatinx Spotlight Series: Clovis Trevino
September 15, 2020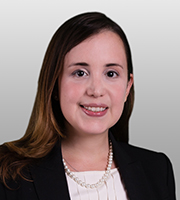 Clovis Trevino is special counsel in the firm's international disputes practice. She specializes in public international law and international commercial and investment arbitration and represents private entities and States in high-stakes international commercial, investor-State, and State-to-State proceedings, including under ICSID, ICC, UNCITRAL, and UNCLOS rules and before the International Court of Justice.
Fluent in Spanish, Ms. Trevino regularly handles disputes arising out of Latin America. Her experience spans a wide range of industries, including mining and minerals, oil and gas, textile manufacturing, and consumer services. She also advises investment firms and asset managers in evaluating investments in international claims or arbitration awards.
How has your cultural background influenced your approach to work as a lawyer, either with your commercial or pro bono clients?
One of the great things about international dispute resolution is that you have direct contact with people from many different (legal) cultures and countries. Growing up in Venezuela and pursuing my legal career in the United States and Switzerland has exposed me to both common law and civil law legal systems, shaping my analytical approach to the conflicts of rights and laws that arise in international dispute resolution as well as my advocacy style before arbitrators hailing from anywhere in the world. In our international practice, being able to communicate and litigate in a different language is definitely a bonus.
What are you doing to build community with members of the Hispanic/Latino Affinity Group during this time of increased distancing and telecommuting?
Building community and consistent and committed mentoring relationships while social distancing has required creativity and adaption. The Hispanic/Latino Affinity Group has been active in connecting our community by organizing virtual happy hours, museum tours, and other virtual social activities. I have also continued to foster mentoring relationships on a one-to-one basis while (virtually) welcoming incoming associates to our community.
Looking back at your career, what advice would you give to yourself as a new associate?
Be proactive and create your own opportunities. As a new associate, performing with excellence and developing strong networks of mentors and peers is key to hearing about and getting involved in cutting-edge projects. "If opportunity doesn't knock, build a door."