Our Website Uses Cookies
We and the third parties that provide content, functionality, or business services on our website may use cookies to collect information about your browsing activities in order to provide you with more relevant content and promotional materials, on and off the website, and help us understand your interests and improve the website.
For more information, please contact us or consult our Privacy Notice.
Your binder contains too many pages, the maximum is 40.
We are unable to add this page to your binder, please try again later.
This page has been added to your binder.
#CovLatinx Spotlight Series: Jaclyn Martínez Resly
September 17, 2018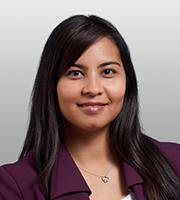 Resident in Covington's Washington, DC office, Jaclyn Martínez Resly is a member of the firm's mass tort and product liability practice. She has particular experience in the representation of clients in the life sciences industry.
Ms. Martinez Resly identifies as Mexican American and, because she was born and raised in Texas, she identifies more specifically as Tejana. She is actively involved with the Hispanic Bar Association of the District of Columbia (HBA-DC) where she serves on the Board of Directors.
As a lawyer at Covington, how has your cultural background influenced the manner in which you approach your work?
The commercial and pro bono work that I do are complementary. I develop and apply writing, oral advocacy, and management skills in both areas. In principle, I choose to take on immigration cases because I believe every person should understand the laws that govern the lawfulness of their presence or residency status and, as warranted, exercise the right to adjust to the status to which they are entitled under this country's laws.
Being of Mexican descent and also bilingual, my background has allowed me to connect quickly with parties and witnesses of my shared cultural and linguistic background in matters for both commercial and pro bono clients. And my lived experience of being part of a minority group has taught me how to forge connection across cultures, which has strengthened trust within and across teams. Everyone brings diverse perspectives to their work because no person's path is exactly the same as his/her colleagues. These perspectives may manifest in ways that are more or less apparent. But, together, the diversity of viewpoints and approaches mitigates a team's limitations and expands a team's capacity to develop innovative solutions to complex situations.
How are specialty bar associations, like the HBA-DC, contributing to the diversity of the legal profession?
The HBA-DC is committed to the professional development of its several hundred attorney, judicial, law student, and associate members and Latina/os in the legal profession generally. It contributes to the diversity of the legal profession by partnering its more experienced members with Latina/o law students in the DC area. Through a series of offerings including mentoring and leadership programs, and career development forums, we aim to, among other things, increase the representation of Hispanic lawyers within the industry.
I am proud of the support that Covington has provided to the HBA-DC. The firm hosts HBA-DC's annual summer law student reception and résumé workshop and is a generous sponsor of HBA-DC's Equal Justice Awards ceremony, where entities, prominent attorneys, and rising stars are recognized annually. As a Board member, it is gratifying to know that we have a hand in serving as an example for those considering careers in law and also celebrating the successes of long-term, established members.