Our Website Uses Cookies
We and the third parties that provide content, functionality, or business services on our website may use cookies to collect information about your browsing activities in order to provide you with more relevant content and promotional materials, on and off the website, and help us understand your interests and improve the website.
For more information, please contact us or consult our Privacy Notice.
Your binder contains too many pages, the maximum is 40.
We are unable to add this page to your binder, please try again later.
This page has been added to your binder.
Dr. Lars Lensdorf
Partner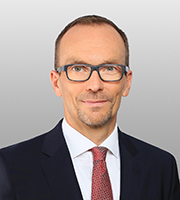 Lars Lensdorf ist Partner im Frankfurter Büro. Er konzentriert sich auf IT-Recht, Outsourcing, Digitalisierung / Industrie 4.0, bankenaufsichtsrechtliche Fragen mit IT-Bezug sowie Datenschutz. Dr. Lensdorfs Praxis deckt alle Arten von IT- und Outsourcing-Vereinbarungen, alle Fragen in Verbindung mit Digitalisierung und Industrie 4.0, einschließlich Online-Beschaffungsplattformen, IT-Compliance (mit Cybersicherheit) sowie Datenschutz ab. Außerdem konzentriert er sich auch auf Schnittstellen zu weiteren Praxisbereichen mit relevantem IT-Bezug, z. B. regulatorische Anforderungen für Bank- und Finanzdienstleistungen sowie öffentliches Vergaberecht. Ein bedeutender Teil der Praxis von Dr. Lensdorf besteht gegenwärtig in der Beratung in Verbindung mit der Einführung der DSGVO (Datenschutz) in Europa.
Beratung eines deutschen Transportunternehmens bei der Beschaffung von Datencenter- und Cloud-Dienstleistungen.
Beratung von großen deutschen Energieversorgern bei der Beschaffung von Arbeitsplatz- und Datencenter-Dienstleistungen.
Beratung eines Automobilzulieferers beim Verkauf einer Geschäftseinheit (Joint Venture) an ein deutsches Industrieunternehmen.
Beratung eines Energieversorgers bei der Beschaffung von IT-Infrastruktur-Dienstleistungen.
Beratung verschiedener Banken und Finanzinstitutionen zu regulatorischen Anforderungen mit IT-Bezug.
Mitgliedschaften und Lehraufträge
Mitglied bei der DGRI (Deutsche Gesellschaft für Recht und Informatik e.V.)
Vorsitzender der Arbeitsgruppe "Outsourcing" der DGRI (Deutsche Gesellschaft für Recht und Informatik e.V.)
Mitglied der Arbeitsgruppe Information Technology beim Deutschen Anwaltverein
Legal 500 Deutschland, "Führender Name" für IT-Outsourcing (2017-2020) und empfohlener Anwalt für IT & Digitalisierung sowie Datenschutz (2020)
Chambers Europe, Recommended lawyer in the field of Information Technology, best known for negotiating IT services contracts and also advises on data protection and regulatory aspects (2018-2019)
Best Lawyers in Germany, "Anwalt des Jahres" für Informationstechnologie (2019); Anerkannter Anwalt für Informationstechnologie, geistiges Eigentum und Telekommunikation (2017-2020)
Wirtschaftswoche, "Top Anwalt für IT-Recht in Deutschland" (2019)
Who's Who Legal, Informationstechnologie, Datenschutz und Datensicherheit (2018-2020)
Juve Handbuch, Informationstechnologie und Outsourcing-Deals (2017-2020)
Ausbildung
Universität Konstanz, Promotion, 1997
Universität Konstanz, 1993
Abschluss Rechtswissenschaften