Our Website Uses Cookies
We and the third parties that provide content, functionality, or business services on our website may use cookies to collect information about your browsing activities in order to provide you with more relevant content and promotional materials, on and off the website, and help us understand your interests and improve the website.
For more information, please contact us or consult our Privacy Notice.
Your binder contains too many pages, the maximum is 40.
We are unable to add this page to your binder, please try again later.
This page has been added to your binder.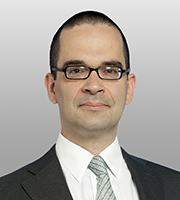 Peter D. Camesasca ist Partner im Brüsseler Büro. Er verfügt über einen breiten Erfahrungsschatz in allen wesentlichen Bereichen des EU- und nationalen Wettbewerbsrechts einschließlich der damit verbundenen Zivilverfahren.
Dr. Camesasca berät schwerpunktmäßig Mandaten aus dem IT-Sektor, Maschinenbau sowie der Transportindustrie (hauptsächlich Flug- und Seeverkehr). Dabei hat er sich auf komplexe Interaktionen von Wettbewerbern spezialisiert einschließlich sämtlicher M&A- und JV-Aktivitäten (F&E, gemeinsame Entwicklung, Technologietransfer etc.), IP/Antitrust-Interface sowie informelle Zusammenarbeit zwischen Wettbewerbern.
Neben der regulatorischen Komponente verteidigt Dr. Camesasca seine Mandanten auch in einer Vielzahl von Schadensersatzklagen aufgrund von Wettbewerbsverstößen (Kartelle und monopolbildende Verhaltensweisen).
Dr. Camesasca ist bekannt für seine "Aufmerksamkeit fürs Detail und effektive Vertretung der Interessen seiner Mandanten" (Chambers Global 2011).
Dr. Camesasca berät Mandanten in allen Anwendungsfällen des Art. 101 AEUV vom schlichten Informationsaustausch hin bis zu schweren Kartellanschuldigungen. Dabei vertrat bzw. vertritt er namhafte Mandanten in der Mehrheit der letzten Kartelluntersuchungen der EU Kommission wie Wärmestabilisatoren, DRAM, SRAM, Calciumcarbid, Airfreight, Freight Forwarders, TFT-LCD (1&2), Smart Cards, Power Cables, Car Parts, Linienschiffverkehr und in weiteren gegenwärtig noch vertraulichen Verfahren. Er verteidigt seine Mandanten in den verschiedenen laufenden oder angedrohten Folgeverfahren vor nationalen Gerichten.
Dr. Camesasca ist darüber hinaus auf die IP-bezogenen Herausforderungen des Wettbewerbsrechts spezialisiert, insbesondere auf die Fragestellungen, die sich aus Standardisierungen, standard-essentiellen Patenten, Unterlassungsverfügungen, das Verhalten gegenüber nicht-praktizierenden Unternehmen etc. ergeben. Während einer zweijährigen Tätigkeit als Special Counsel für Samsung Electronics war Dr. Camesasca maßgeblich für das Management der laufenden EU-Untersuchungen verantwortlich, welche in einem bahnbrechenden Vergleich endeten, der weitere Unterlassungsverfügungen vollumfänglich ausschloss und Samsung von jeglichem Fehlverhalten freisprach.
Dr. Camesasca vertritt Mandanten vor der EU Kommission, den Europäischen Gerichten, dem Bundeskartellamt, der UK Competition and Markets Authority, dem belgischen Wettbewerbsrat und diversen nationalen Gerichten.
Vertretung von Samsung Electronics in den EU-Vergleichsverhandlungen bezüglich der Durchsetzung von standardessentiellen Patenten ("SEPs") in Verbindung mit dem 3G-Standard, welcher in Smartphones und Tablets eingesetzt wird. Der EU-Vergleich beendete das Verfahren gegen Samsung ohne Feststellung eines Rechtsverstoßes oder der Festsetzung einer Geldbuße.
Vertretung von Samsung Electronics in der EU-Untersuchung "TFT-LCD" (1&2). Führender Berater von Samsung Electronics in Bezug auf alle Aspekte des europäischen Verfahrens wegen angeblicher wettbewerbswidriger Absprachen im Zusammenhang mit TFT-LCD.
Vertretung von Samsung Electronics in der Smart Card Chips-Untersuchung in der EU.
Vertretung von Samsung Electronics in Bezug auf diverse zivilrechtliche Folgeklagen auf Schadensersatz.
Vertretung von Hapag-Lloyd und United Arab Shipping Company in der Untersuchung der Linienseeverkehre in der EU.
Beratung mehrerer Linienschifffahrtsgesellschaften in Bezug auf diverse Aspekte des EU-Wettbewerbsrechts (u.a. Allianzen und Kooperationsvereinbarungen.
Beratung von World Liner Data und Container Trade Statistics in allen Aspekten des EU-Rechts bzgl. Datensammlung und -distribution.
Vertretung von Samsung Electronics in diversen Distributionsangelegenheiten.
Vertretung von Samsung Electronics in verschiedenen Transaktionen in der EU.
Vertretung eines führenden US Frachtspediteurs in der Untersuchung der EU Kommission wegen rechtswidriger Absprachen im Freight Forwarding.
Vertretung von Samsung in der europäischen DRAM-Untersuchung. Einsatz als führender Berater in Bezug auf alle Aspekte der EU-Untersuchung wegen angeblicher Absprachen bzgl. DRAM (abgeschlossen im Rahmen des ersten Vergleichsverfahrens nach der Änderung des EU Wettbewerbsrechts in 2010).
Truvo Netherlands/European Directories. Führender Berater für Truvo (vormals bekannt als World Directories), einem führenden Anbieter von Verzeichnisdiensten weltweit und Verleger der Gouden Gids (Gelbe Seiten) in den Niederlanden, bei der Fusion mit European Directories. Die niederländische Wettbewerbsbehörde gab die 2-zu-1-Fusion ohne Auflagen frei basierend auf einem detaillierten wirtschaftlichen Gutachten (Freigabe in 2008, welche in den nachfolgenden Anfechtungsverfahren Bestand hatte).
European Liner Affairs Association, in welcher die 21 größten Linienschifffahrtsgesellschaften der Welt zusammengeschlossen sind, im Zusammenhang mit der Aufhebung der Gruppenfreistellungsverordnung für Konferenzen nach einer fünfjährigen Bearbeitungszeit und der Neufassung der GVO für Konsortien (2003-2009). Dabei wurde erreicht, dass an die Stelle der GVO für Konferenzen Leitlinien für den Seeverkehr traten, die die Beurteilungsbasis für nachfolgende Informationsaustauschsysteme wurden, welche nunmehr in den Standard der Horizontalen Leitlinien der EU eingeflossen ist.
Honeywell ./. Kommission und GE ./. Kommission. Beratung von Rockwell Collins, einem führenden Avionikunternehmen bzgl. seiner Interventionen im Rahmen der grundlegenden Verfahren vor dem Gericht Erster Instanz gegen die Entscheidung der Kommission in der Sache GE/Honeywell, welche als Wendepunkt in der Fusionskontrolle betrachtet wird. Unterstützung der Position der Kommission in beiden Fällen – mit Erfolg (2005)
JUVE, Brüssel (2015)
Global Competition Review, 40 Under 40 (2012)
Chambers Global, Wettbewerbsrecht/Europäisches Recht (Belgien) (2011-2012)
Chambers Europe, Wettbewerbsrecht/Europäisches Recht (2015)
Nominierung für "Lawyer of the Year – Under 40" bei den GCR Awards 2011
Legal 500 EMEA, Wettbewerb – Belgien (2015)